George Gardner
Born: Abt 1823, Hatfield, Essex
Marriage: Selina Elizabeth Wathen on 14 Sep 1847 in Dublin, Ireland
Death: 5th May 1895 in Northallerton, Yorkshire


Noted events in his life were:
. Occupation: Governor HM Prison, 1862 - October 1891, Northallerton, Yorkshire..

George married Selina Elizabeth Wathen, daughter of John Wathen and Mary Unknown, on 14 Sep 1847 in Dublin, Ireland. (Selina Elizabeth Wathen was born about 1831 in Maidstone, Kent and died Q4 1906 in Prescott, Lancashire.)
Captain George Gardner was a Captain of the 13th Light Dragoon of Charge of the Light Brigade fame. They charged at Balaclava in 1854, and in 1861 they changed their name to the13th Hussars.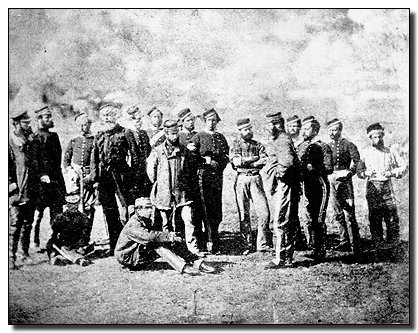 There were 130 went into Balaclava 61 came out, this photo taken day after battle. George is 2nd from the left. RSM George Gardner 1091 13th Light Dragoons.
Here is a link to the article.
Regimental Sgt-Major George Gardner, 13th LD, commissioned Cornet & Adjutant 27 Sept 1854

Promoted Lieutenant 9 Oct 1855

Promoted Captain 9 Feb 1861

Retired 1862 then became Govenor of Northallerton Military Prison.
He was one of the survivors of the Charge of the Light Brigade and his survival owed a lot to luck.
"All 8 officers were in the front of the first line with the exception of Cornet George Gardner who was doing the duties of RSM. Gardner had been RSM until a month previously but as his replacement was not available he undertook his old duties"
An RSM's station was bringing up the rear, behind the rear rank.

As far as I can tell from the Medal roll, he received a 4-clasp medal for Alma, Balaklava, Inkerman & Sebastopol (it's a bit hard to read in places). He also received the Turkish medal and 5th Class Order of Medjidie.

He seems to have survived the war unscathed.
For further information about his life please download the newspaper article from here.
This article has been reproduced by kind permission of Northallerton Resource Library.